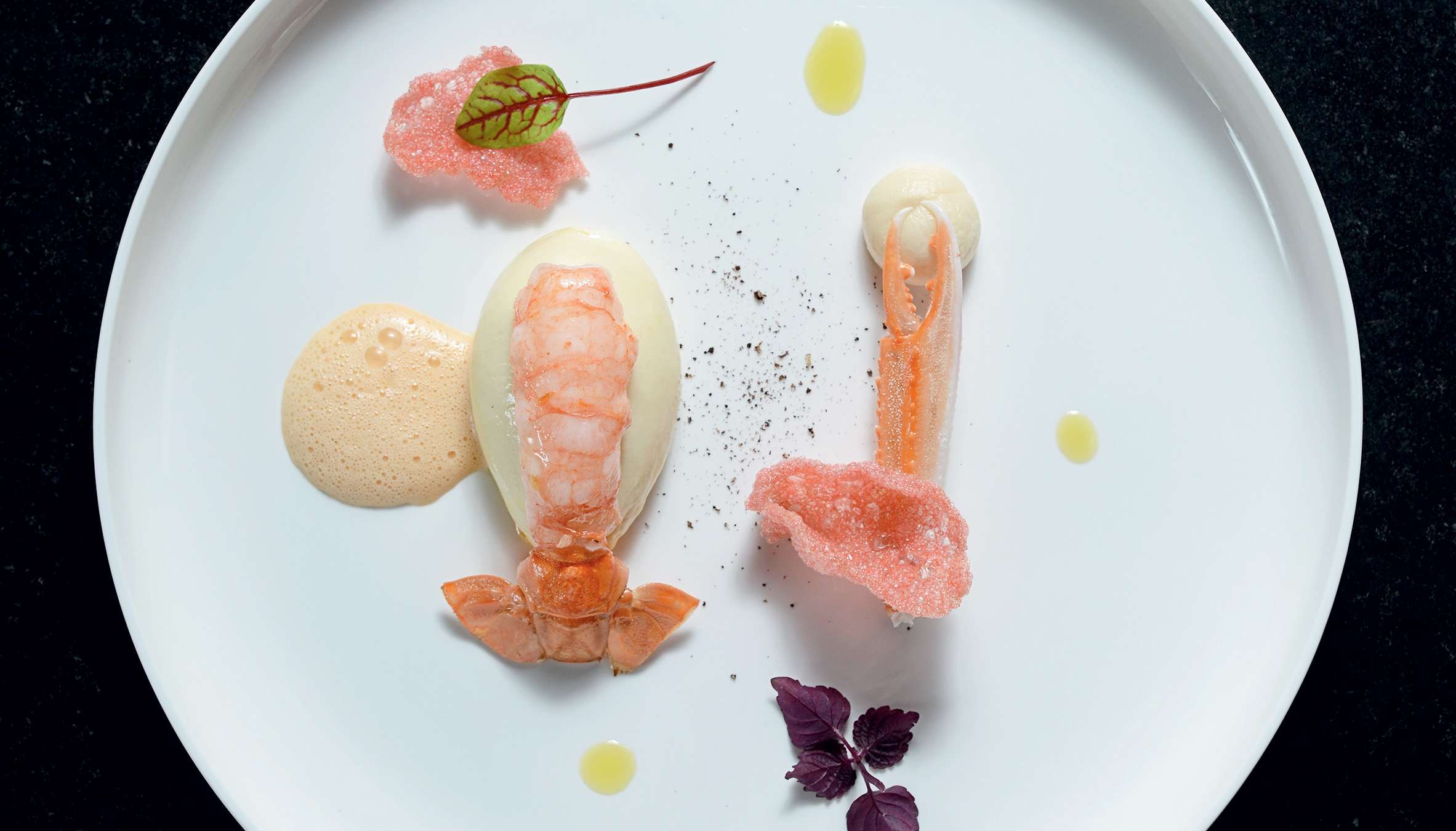 For 8 people
Preparation time: 3 hours
Cooking time: 1 hour
Difficulty level: High
Ingredients
8 langoustine tails (preferably fresh)
For the quenelle
130 g sea bass flesh
300 g langoustine flesh
(we won't mind if you buy it in the frozen section)
300 g egg white
240 g single cream
8 g salt
100 g softened butter
For the juice
1 kg langoustine heads and claws
3 diced onions
3 diced carrots
3 diced heads of fennel
5 crushed tomatoes
100 g tomato paste
100 g Bresse cream
Tabasco – Cognac – Lime
For the quenelles
Blend the sea bass and langoustine flesh with the salt and egg white. Gradually add the cream and then the softened butter. Season with pepper and Espelette pepper. Leave in the fridge for two hours.
Blend the cold mixture once again and then shape into quenelles using a large silver spoon. Silver spoons are deeper and easier to handle for this job, but an ordinary spoon will also work.
For the juice
In a large saucepan, brown the langoustine heads and claws with olive oil. Crush them (using a rolling pin or pestle for example), then add the butter, garlic and thyme.
Brown, add the onions, carrots, fennel and tomatoes. Stir.
Add the tomato paste, flambée with cognac, just cover with water and leave to cook for around 45 minutes.
Pass the juice through a conical strainer and then thicken with butter and cream, adding them gradually.
Season with salt and pepper, a touch of Tabasco and a squeeze of lime juice.
For the langoustines
Rapidly brown the langoustine tails on the back with olive oil. Finish cooking them with foaming butter, garlic and thyme.
Peel them carefully while keeping the tail fin. Season and plate.
BY DAVY TISSOT
Champion of Team France at the Bocuse d'Or competition
From the neighbourhood of Les Minguettes, in Vénissieux, Davy Tissot is a holder of the prestigious title 'Un des Meilleurs Ouvriers de France'. He was the head of the French delegation at the 2021 Bocuse d'Or competition.
On the 27th of September, accompanied by his commis, Arthur Debray, he will present a hot dish made with a whole braised chuck steak, and a three course set menu (starter, main, dessert) to take away, as a reference to recent events, featuring the tomato as the star ingredient.
To learn more: davytissot-bocusedor.fr et teamfrancebocusedor.com