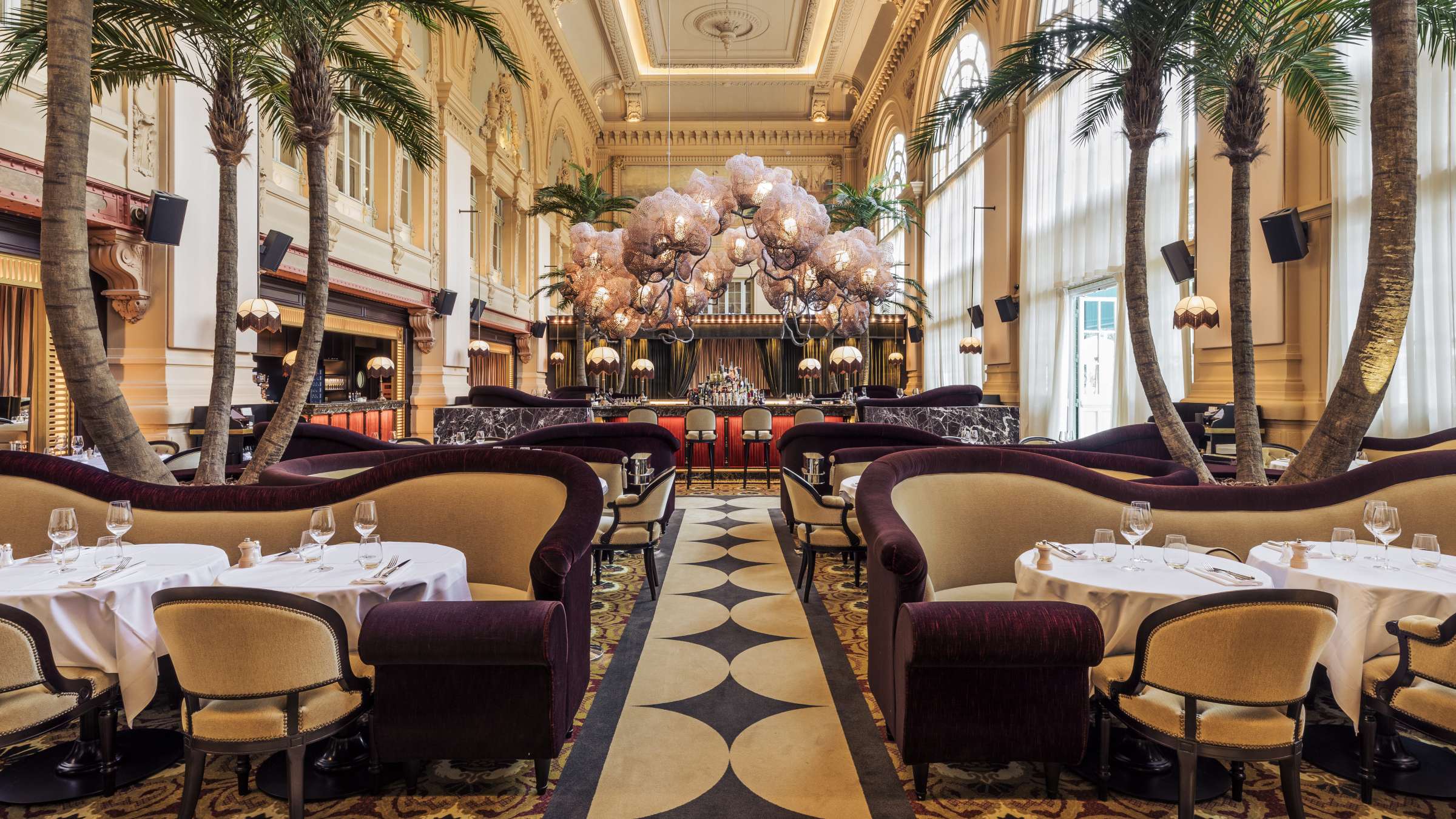 Currently in the limelight, Lyon's new party restaurants are shaking up catering traditions as they keep the city dancing till the end of the night. Get ready for a show!
From Paris to Saint-Tropez, Tignes, Cannes and Monaco, party restaurants are serving up food and music throughout France, and Lyon is no exception. Operating as bars, restaurants and clubs all at once, these new establishments are mixing things up to create a lively atmosphere. The current star of the scene is CoCo, the latest creation of the group Paris Society, which opened at the start of the summer. Located in the former railway station of Les Brotteaux, it offers fine brasserie-style cuisine and chic cocktails in a plush interior. It's not cheap, but if you haven't been there yet, you should at least have a look, as it's worth the trip to see how the place has been transformed. Why are they proving so popular? For a start, you don't need to wait until 1 am to start shaking your stuff on the dancefloor. According to Colombe, who just turned 40: "If you have kids, it definitely makes things easier. And, having the restaurant and the club in the same place makes it simpler to organise a night out. Not to mention the fact that nobody gets lost after dessert, which often happens when changing places." What is her favourite party restaurant? Le Six, which moved into where the Choo Choo used to be, next to CoCo. As the meal progresses, customers start getting into the party mood, and the dining area is gradually transformed into a dancefloor. Only accessible to guests who are selected by a mysterious individual wearing a hat, a second, slightly more underground room lies hidden behind a concealed door. Here, the atmosphere is even wilder! "Fifteen years ago, party restaurants were kind of cheesy, but they are back in vogue. Having said that, there is a subtle knack to turning these places into trendy spots, which are a bit showy while remaining cool and intergenerational," explains Bertrand, the new owner of the establishment, who also runs the Barrio Club.
Fuel for the dancefloor
The big question remains: what's the food like? Not all party restaurants are equal in this area. People often complain that the bigger the bill, the smaller the servings. As a response to these criticisms, most of them have made an effort with their menus. This is true of Le Passage, a legendary place that reopened last winter to take diners on a culinary journey from the Mediterranean to Asia. The dishes are served between cabaret dances, before the DJ pulls out all the stops for a wild night that continues until 3 am.
Carnet d'adresses
La Maison
Welcome to La Maison, a beautiful residence lovingly decorated by the designer François Dumas with a tree-lined courtyard. This is a very popular place with the young crowd. After enjoying a veal rib, shoulder of lamb or lobster, it's time for a fiesta to the sounds of the latest hits and timeless classics.
Monday to Saturday until 2 am.
4 rue Jonas-Salk, Lyon 7e
L'Empanadas Club
Here, Messi is a demigod and the star of the menu is empanadas – delicious little Argentinian pastry turnovers with various fillings. After eating, the tables are cleared away to make room for dancing and it turns into a little nightclub. Can we get an olé!?
Thursday, Sunday and Tuesday until midnight. Friday and Saturday until 1 am.
4 rue Pizay Lyon 1er.
Le Kaïa
In the evening, this is a pretty little restaurant, nestled in the cityscape with its marble bar and felt chairs. The menu features dishes such as ceviche with shrimps and coconut milk, Italian-style beef tartare, and grilled octopus. When night begins, as the clock strikes midnight, the restaurant is literally transformed and the DJ arrives.
Monday to Wednesday until 1 am, and Thursday to Saturday until 2 am. 14 rue Grolée, Lyon 2.
The Maze
In Limonest, The Maze is a bistro, a restaurant, an afterwork bar and a club all at once. The chef serves up creative dishes like salmon and carrot mosaic in a Nori sheet, while the music includes house, electronica and dance…
Wednesday and Thursday until 1 am. Friday and Saturday until 4 am.
462 chemin de Champivost, Limonest.
Le Soho Café
With its Chesterfield sofas leaning against distressed walls and lanterns hanging from the exposed-beam ceilings, the Soho Café creates an ambiance reminiscent of Buenos Aires, Lyon or New York. The menu is equally cosmopolitan, joyfully skipping from tapas to beef fillet and burgers, before leading the way to the dancefloor.
Monday to Saturday until 3 am.
6 rue Petit-David, Lyon 2e.
Le Parloir
This is one of those places that has the stamina to serve lunch, early evening drinks and then dinner, before opening up the dancefloor. The owners aim to offer a friendly space where each individual feels at home. It isn't always lively, but this only makes us appreciate the promise of a dish made with fresh ingredients all the more.
23 quai du Général-Sarrail, Lyon 6e.
Monday to Saturday until 1 am.
Le Passage
Le Passage
8 rue du Plâtre, Lyon 1er. Tuesday to Saturday until 3 am.
Le Co Co
Le Co Co
14 place Jules-Ferry, Lyon 6e. Every day until 2 am Le Six
13 place Jules-Ferry, Lyon 6e. Wednesday until 2 am, Thursday to Saturday until 4 am.