Special feature
Special feature
Fashion: second-hand leading the way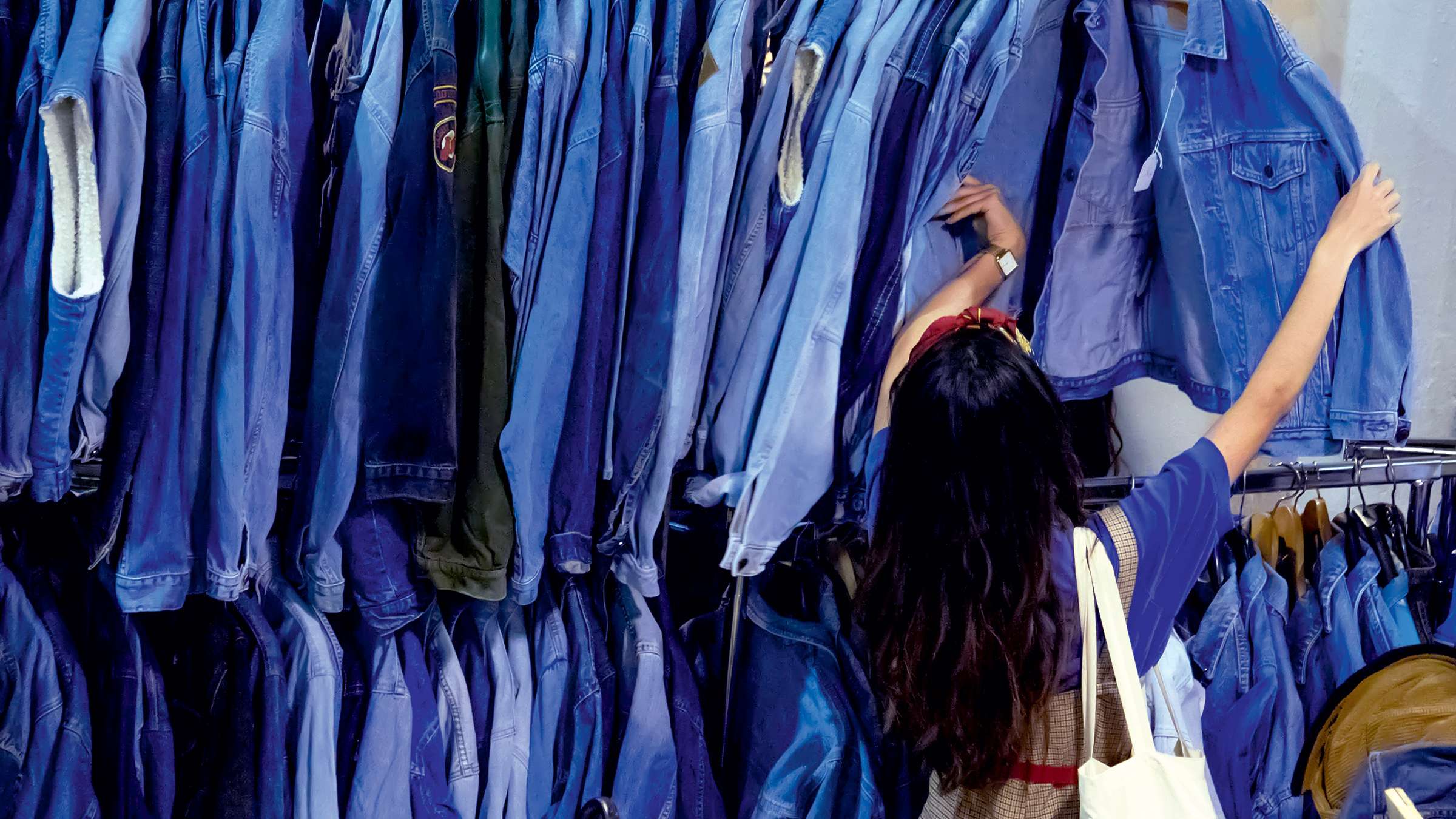 There is nothing "new" about second hand. Second-hand clothes shops have been around for decades and Lyon's Vintage Fashion Market has been selling used items since 2001. There has been a new surge in the popularity of clothes recycling of late, however, particular among the younger generation, with increasing digitalisation making it a viable environmental solution. We took a closer look.
In 2009, when Juliette Bazenet told her friends that she did the rounds of charity shops from Budapest to London, and loved rummaging through the clothes section of Emmaüs in Lyon, she was branded a "cheapskate". Even back then, the girl who became the manager of the online second-hand clothes shop Faut le voir porté, could already see the "authenticity and greenness of second-hand clothes." However, Juliette hasn't set foot in Emmaüs since 2019: "It's so popular now, all the good deals there are snapped up in a blink! "
What has happened over the past decade in Lyon, and the rest of France, to make recycling centres trendy spots and flea markets places where thirty-somethings hang out? "When you look at greenhouse gas emissions, textiles production is ranked as the fifth largest producer. When land occupation is factored in, it ranks second. In terms of water and materials consumption, it comes third," explains Erwan Autret, engineer at the French Agency for Ecological Transition, in the newspaper Le Parisien, January 2020.
People are now pointing their fingers at the fashion industry, which is considered to be the world's second biggest polluter, after the oil industry. LVMH, the world's biggest luxury clothing company, has taken the issue on board and produced a charter of commitments, rapidly followed by the leading culprits in the fast fashionsector (H&M, Pimkie, Uniqlo, etc.), who are communicating about recycling actions deployed, on varying scales, for their old collections.
Alongside these developments, French consumers are turning to second-hand goods website Le Bon Coin, the socially engaged e-shop Label Emmaüs and, above all, the Lithuanian platform Vinted, a website where members can buy and sell their second-hand clothing and accessories. During the first lockdown, more than 28 million people turned to the online marketplace to make some space in their wardrobes.
What's new about retro?
Digital technology has added to and enhanced already existing physical events among a new generation of users. "Our next edition – Back to Basics – will seek to return to the essential values of fashion, with a view to more responsible consump-tion. We encourage our visitors to buy wool clothing rather than fast fashion," explains Claire Romarie-Poirier, communication director of the Marché de la Mode Vintage (Vintage Fashion Market), which will be held on 9 and 10 October at La Sucrière. Born in 2001, at the initiative of Lyon's fashion university, this gathering of passionate individuals was one of the pioneering events of second-hand sales in France. It now boasts more than 200 stands run by independent second-hand clothes dealers and collectors, who search the four corners of Europe to unearth rare gems. "Our offering must be in phase with cur-rent trends: twenty-somethings and forty-somethings have a different idea of what vintage is. For example, the new generation are now looking to find cult items from the 2000s. We are doing our utmost to preserve the intergenerational spirit that the market's success has been built on," states Claire.
Laurent Journo shares a similar approach. As an experienced buyer, who appears on the TV show 'Affaire conclue' on the French channel M6, he firmly believes in the benefitsof the growing popularity of sec-ond-hand goods: "The clothes indus-try must move towards the circular economy. Second-hand clothing is an authentic alternative to ready-to-wear. " Fourteen years ago, he created the Le Salon du vintage in Paris to being together the French capital's collectors. The event rapidly spread to a dozen French towns and cities, including Lyon. When will the next gathering be? On the 18th and 19th of September, at the Palais de la Bourse. Along with Anoushka, a star model from the 1980s, whose collection of rare items would delight any fashionista, Laurent Journo will exclusively present there 5000 pieces in homage to Pierre Cardin.
Bargains big ans small
Pas vraiment besoin d'une robe couture dans l'immédiat ? Tant mieux ! Car c'est sur les vêtements du quotidien, griffés ou non, que la demande explose au rythme des ouvertures de sites et d'échoppes spécialisés. Suivant les traces des pionniers, Fripes Ketchup, Carrie Bradshop ou Look Vintage, l'on peut désormais « shopchiner » à Lyon chez Tilt Vintage, Troc Nippes, Elephant Vintage Store, Bon Fripe Bon Genre, Le Grenier, Chez Biche...
The only niche left was children's clothing. That has now been filled with the opening of Loca Loca this summer. Located in Lyon's 1st arrondissement, the shop offers a selection of clothes, accessories and toys for ages 0 to 6. The heavyweight second-hand clothes outlet Kilo Shop is also expanding. This pioneer in selling clothes by weight has just opened a new franchise on Rue de la Bourse, with a slogan that has remained the same for 40 years: "Pick, weigh, take away." Vintage Kilo Market (see below), located in Vénissieux, is based on the same concept. Do you have some nice clothes to sell? Join France's first clothes swapping club, tucked away in Lyon's 3rd district (see previous page) or go online,like a pro, as Juliette Bazenet has done with her e-shop 'Faut le voir porté', which will soon be joined by a physical pop-up store. Proof if any were needed thatthe people of Lyon have no shortageof ideas to contribute to the evelopment of responsible fashion.
Chiner à la lyonnaise
Three questions for Amandine Savi and Bastien Monhard
Creators of the shop Fripes Machine, the Frip Club, a clothes swapping nshowroom, and Road Frip, a roaming second-hand clothes shop.
When did your passion for second-hand clothes begin?
Amandine: When I was a student, I organised clothes swapping sessions with my girlfriends. After our studies, Bastien and I went travelling. I got into the habit of leaving my clothes in youth hostels andbuying more in second-hand clothes shops.
Bastien: Personally, before discovering second-hand clothes shops, I bought very few clothes. Now, I know I can find very stylish items for not too much.
How were your various projects born?
Bastien: During our year of travelling, we hired a van in Quebec. We had the idea of optimising it by selling clothes inside. That was how the idea for 'Road Frip' was born: we would buy a van and make our way around France's festivals. This year, the public health crisis undermined our business model. So we rented the premises of a former travel agency to sell our selection of second-hand clothes.

Amandine: In 2018, I discovered the Shop Club in Montreal, a clothes swapping club. I met the creator and made plans to open 'Le Frip Club' in France, based on the same model. People simply make an appointment onlineand meet above our shop to swap clothes they no longer wear.
What do clothes mean to you?
Amandine: Fun... at a low price! I don't spend a lot of money on clothes, because I enjoy changing them too much. A favourite pair of jeans never stays in my wardrobe for more than a year.

Bastien: The way a person dresses reveals things about their personality; it's a true form of expression.
Fripes Machine
14 rue Aimé-Collomb, Lyon 3e
lefripclub.fr
@leroadfripes
The weight of fashion
"We want to make vintage more accessible. It's a way of looking at tomorrow's world and adopting more responsible consumption modes," explains Kim, one of the four founders of Vintage Kilo Market, a new concept of selling clothes by weight in Vénissieux. The Lyonnais entrepreneurs buy jackets, polo shirts, dresses, bags, shoes and more by the ton from waste sorting centres in Europe and sell their stock on (after washing and sorting it), for 28 euros a kilogram, on their premises. For each sale, ten tons of second-hand clothing is spread out over the four rooms, for men, women and children. After Paris, Bordeaux and Barcelona, the concept has spread to Germany, while maintaining the pace of the monthly sales in Vénissieux, which can be accesses by signing up. To your tote bag!
Vintage Kilo Market
55 avenue Jules-Guesde,
Vénissieux
@vintagekilomarket
Vintage 2.0
The closure of shops and cancellation of shows during the public health crisis drove the growth of online vintage clothes sales, particularly via Instagram. This was the case for Juliette Bazenet, 30 years old, who offers "drops" for her 12K subscribers, where she sells new models, every Wednesday and Sunday at 7 pm. Her Instagram account serves as a showcase for the e-shop, where she can display the clothes worn. Online sales make it possible to bring clothes alive, through the use of the creator's photos, videos and reels. Juliette made the most of the first lockdown to learn dressmaking skills. She now uses these skills to sell "upcycled" vintage items. This added value brings a further dimension to the concept of second-hand
@fautlevoirporte
fautlevoirporte.com
Second-hand: it's all good!
In terms of alternative consumption, textiles is not the only area undergoing a transformation. For a time out of fashion, car boot sales, bric-a-brac sales, flea markets and other such events in the countryside have become ultra-trendy weekend outings, where second-hand enthusiasts and curious shoppers come to browse the furniture, decorative items, tools and various curious objects on sale. People scour the markets for a Scandinavian sideboard, a designer light, cheap books, a children's bicycle, an old door handle or a games console. The people of Lyon can now even buy second-hand plants, retrieved and looked after by the recently opened Société Protectrice des Végétaux (Society for the Protection of Plants). This is a totally new initiative in France, which is aimed at reducing plant waste, while creating a network of partners, plant nurseries and local producers.
It is open on Wednesdays, Fridays, Saturdays and Sundays from 10:30 am to 6:30 pm. A.G. societeprotectricedesvegetaux.com
Le Jardin Girondins
14 rue Crépet
Lyon 7e
societeprotectricedesvegetaux.com