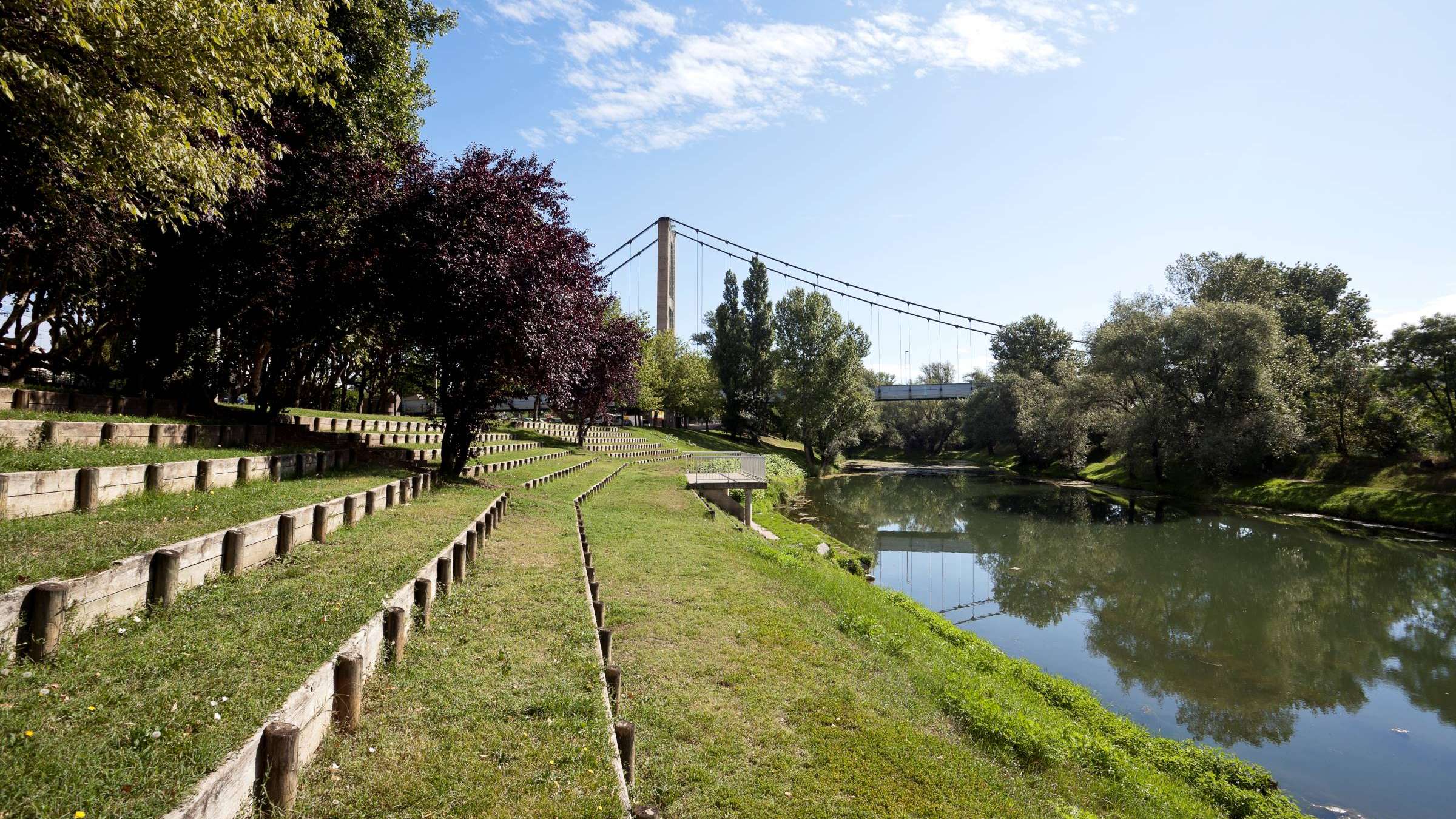 Set off along country paths and discover the beautiful landscapes around our city. Whether you're looking for fauna, flora or simply beautiful landscapes, here is a panorama of pleasant paths to follow.
What a pleasure it is to be able to enjoy the fresh air without being bundled up. The fine weather is back: feel like stretching your legs? It just so happens we have a few ideas for walks around Lyon up our sleeve.
1. The 'Sentier de l'homme et du fleuve' in Vernaison
Between the Rhône and the canal, explore a varied and unexpected environment: a beach of pebbles worn down by the water, undergrowth and dense vegetation offer guaranteed changes of scenery. It's well worth making a stop in Vernaison. This charming medieval village boasts beautiful houses made with adobe and pebbles, as well as the famous 'Tour de Millery' (a former toll tower from the thirteenth century). This 3 km walk takes around one hour.
2. The 'Sentier des rapaces' setting out from Saint-Cyr-au-Mont-d'Or
This is a superb walk to see the birds of prey living on the massif. The route winds around the heights of Mont-Verdun, reaching an altitude of 625 m. The exceptional panoramic view offers a chance to see the ochre cliffs that are so typical of Couzon-au-Mont-d'Or. This route also provides many signs and interactive terminals to learn about the resident ospreys, kites, buzzards and short-toed snake eagles (you won't see any golden eagles though!)
You can extend your walk by taking the marked-out path around Mont-Cindre: a magnificent detour!
Cameras and binoculars are highly recommended!
3. The 'Sentier de la clef des champs'
This magnificently named route (which, literally translated, means 'The path of the key to the fields') is an invitation to relax. Its name refers to the gentlemen of the sixteenth century who owned houses in the country known as 'maisons des champs'. It offers charming views over the Rhône Valley. You can also take a detour to the Observatoire Astronomique de Lyon perched up high. To get there, take the 'Sentier de Sacuny'. Those who fancy a spot of exercise can take the 'Fort de Côte-Lorette' health trail. This route takes around 45 minutes (there and back).
4. 'Biézin Nature' between Chassieu and Décines-Charpieu
This curious name refers to what was once known as 'le Biézin', the canal which brought water to the mill. Between Chassieu and Décines-Charpieu, this route offers a very pleasant breath of fresh air. It is suitable for families and has many play areas, soft ground coverings to walk on and varied landscapes that change with the seasons. This agricultural area is a beautiful patchwork of oilseed rape and wheat fields to explore.
The buses 68 and 76 will take you to the route. For bus 68, get off at the stops 'Les Grillons' or 'Chassieu Mairie'. For bus 76, the stop is called 'Le Biézin', so there's little chance you'll miss it!
Nearly half of the territory of Greater Lyon is green, offering a multitude of paths and routes to discover... An abundance of beautiful walks!​