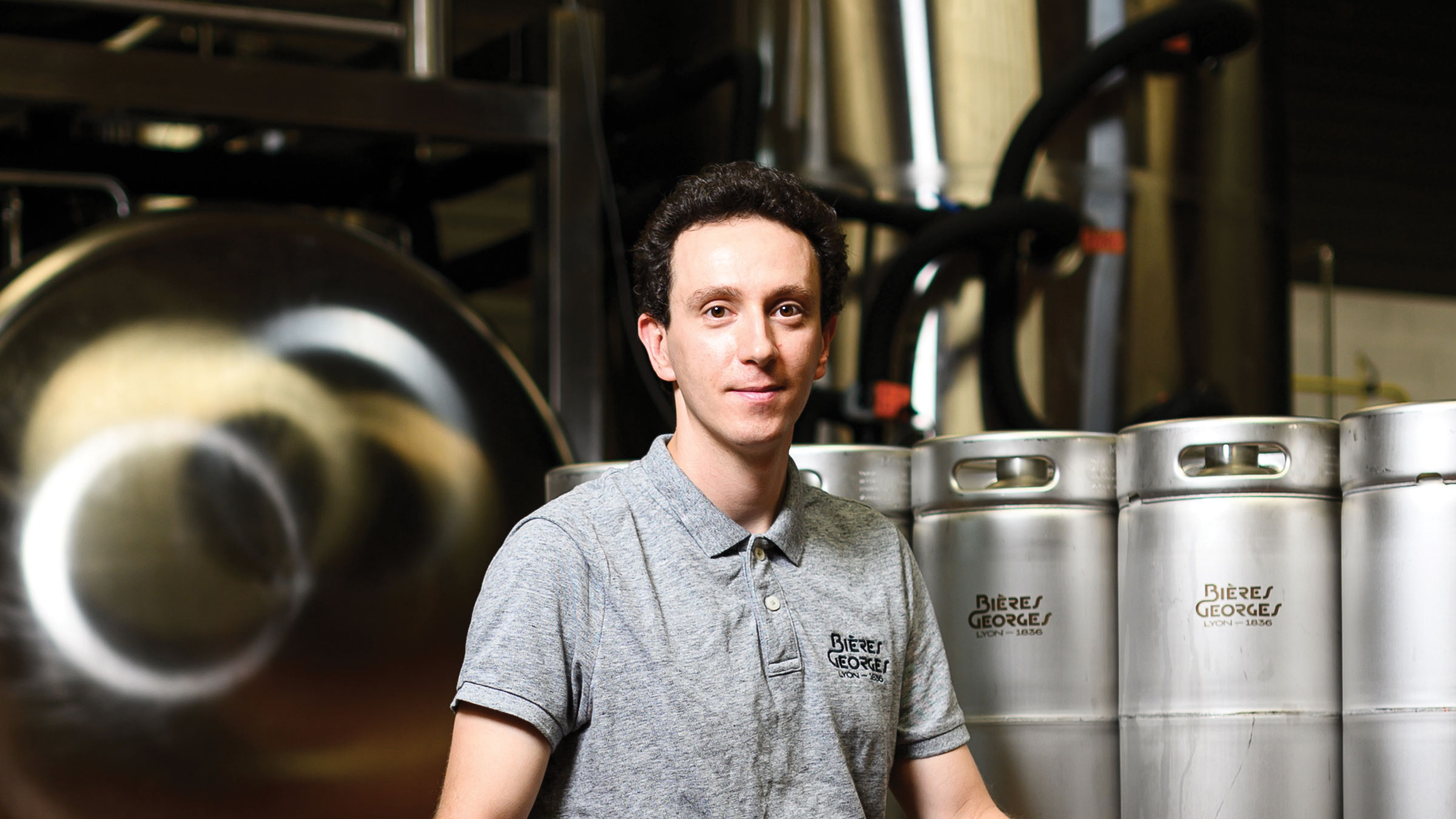 What is the secret of brewing a good beer? To find out, we visited the Fabrique du Faubourg in Vénissieux.
Forget about the cliché of a brewer with wooden mash paddle in hand, stirring the contents of their vat. Here, the beers Georges, Vol de nuit, Single Track and BOG (a brew made using hops grown on the roofs of the Novotel hotel in Gerland) are made following artisanal methods and a very strict process, using stainless steel vats. Running the show are chemist and engineer Sébastien Bard (pictured), on the technical side, and Nicolas Antoniades, on the creative side.
Making beer begins in the evening, around 8 to 9 pm, with the grinding of the malt. Here, the basic cereal is totally organic. One ton of it is required to brew 4000 litres. The next morning, at 8:30 am, the brewing begins. In a mashing vat, the malt is mixed with filtered water, enriched with mineral salts, which is heated beforehand. This is left to infuse for 1½ hrs, in the same way as tea. Following this, the residues, known as brewer's spent grain or draff, are retrieved and recycled. The liquid, known as the wort, is then transferred to another vat.
Here, it is heated to 85°C for 45 minutes. The brewer adds bitter hops, which will give the beer its character. The mixture is then cooled down to 20°C before being transferred to a fermenter. Yeast is then added and "activated" by injecting oxygen into the mixture. "It's often said that brewers make the wort and yeast makes the beer," our master brewers tell us. It is now 1:30 pm. What comes next? Waiting. For around a dozen days.
During this time, the brewer keeps an eye on what the yeast is doing and intervenes when required. When they feel that the fermentation is complete, they move the future beer to a horizontal vat at 2°C to "mature" it.
The beer is allowed to settle, but its journey is not over yet. It will then have to be filtered and centrifuged to remove impurities. It is then transferred to a bottling tank. The next day, the beer can then be bottled or barrelled.
Malin
The draff (residue of infused malt) is recycled by a farmer from Corbas to mulch their vegetables. Recently, a company based in Chambéry, Beerscuit, is even retrieving them to make aperitif biscuits.
Give it a try
Fancy trying your hand at brewing? Why not book an introductory workshop and create your own beer?
La Brasseuse
5 Quai Jules Courmont
Lyon's 2nd district
labrasseuse.fr
La microbrasserie La Chénou
96 route des coteaux du Lyonnais
69530 Orliénas
lachenou.fr
Et La Bière Fût
10 quai Victor Augagneur
Lyon's 3rd district
etlabierefut.com
La Beer Fabrique
10 Rue Saint-Polycarpe
Lyon's 1st district
labeerfabrique.com